Disciplines
Web Design & Development
Platforms & Technologies
WordPress, Responsive Design, Elastic Hosting, Accelerated Mobile Pages (AMP)
Strategic Partners
MediaTemple
The Need for a Connection
Financial Service Group wanted to make a personal appeal to their potential clients. They wanted to know about their ambitions, not their portfolios – a novel approach in an industry that is often cold and calculated. President Michael Haubrich was looking for something differential – he was not content with being just another financial institution. Needless to say, Envy Creative was excited to tackle such a tough project and were pumped to be collaborating with such a forward-thinking organization.
"What Do Your Clients Want?"
That was the first question Envy asked Financial Service Group. Michael and his staff understood their clients very well, but not in how they spend their time navigating the web. Envy Creative developed an online questionnaire to ask FSG's clients how they interact with the web and what they are looking for in a new FSG website. The responses gathered in this stage were indespinsible when it came to building the new Financial Service Group website.
What They Want, What You Need
Secure and Compliant Infrastructure
The developers at Envy Creative understand the needs of their clients, which includes robust security and compliance standards. Securing potential client information with the latest safety standards and building a compliant backend backup service was one of the priorities of this project
A Clean, Responsive Look
Taking the research and questionnaire to heart, it was important for Envy Creative to deliver a responsive design that worked on all device types and reflected the behavior of sites that FSG clients used on a daily basis
Thorough Research
With most design projects, an exhaustive competitor research project is in order, but the team at Financial Service Group wanted to know what their clients wanted from a new website experience. Envy Creative organized questionnaires and conducted in-depth research of trends within the financial service industry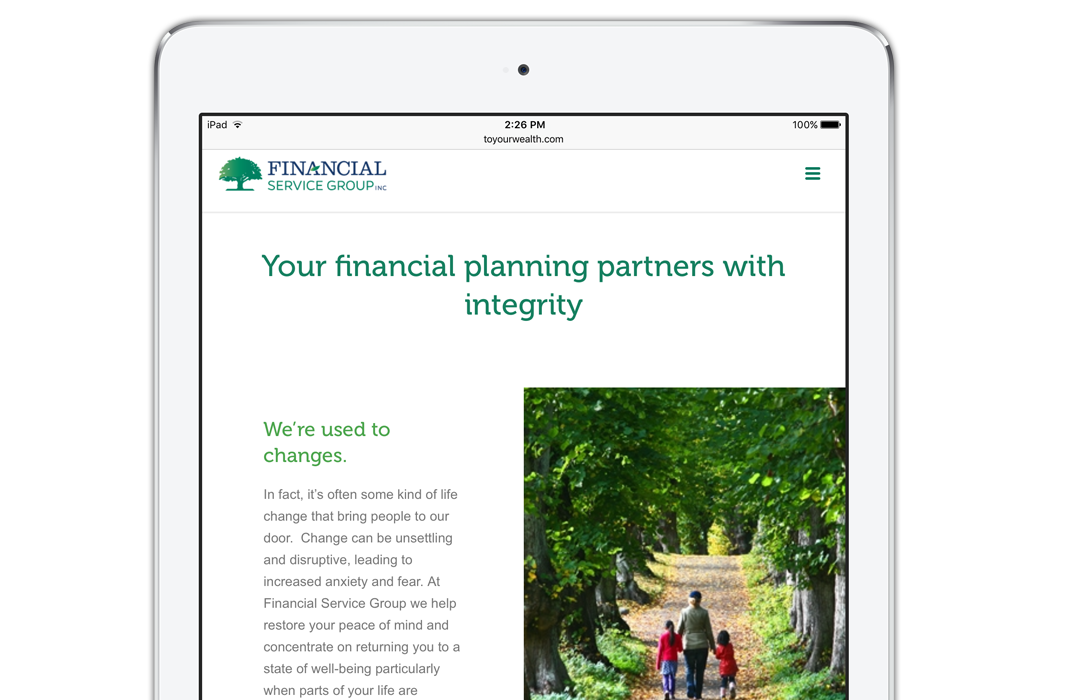 Secure and Informative
Communicating clearly online with your potential and current clients is great, but if you can relate to their experience, that makes for a stunningly effective website. Through collaboration with the brilliant team at Financial Service Group, Envy Creative was able to create a secure web experience that was welcoming, informative, and more personal than FSG's competitors.
Beautiful, Engaging Websites
Need a web refresh? We want to be part of your team.
We can help give you the web presence that you've always wanted. Our dedicated team of designers and web experts are ready to get to work for you. Reach out to Envy Creative today. We love an opportunity to talk about any project.