Disciplines
Web & Design & Development, Application Development, Branding
Platforms & Technologies
WordPress, Responsive Design, Elastic Hosting, Advanced Analytics & User Tracking
Strategic Partners
MediaTemple
A New Product Offering
The National Center of Housing Management provides individuals and organizations within the housing industry with unparalleled training to succeed in their increasingly complex workplace. One of the biggest problems in the housing industry is turnover of housing managers and maintenance technicians. It wasn't because they found better opportunities, but that they were unqualified and unprepared for the on-site work. The brain trust at NCHM knew they could help solve this problem and soon they began developing aptitude tests that could be administered during the interview process.
Changing The Experience
The use of pre-employment tests in this setting is not unheard of, and while NCHM has impeccable credentials, they still needed to differentiate from the host of other tests on the market. One of the drawbacks of a typical paper test is the time spent grading the submissions. For one position, an Human Resources representative may have north of ten applicants taking 100-question aptitude tests. So, Envy Creative was called in to see if they could deliver these tests in an online environment.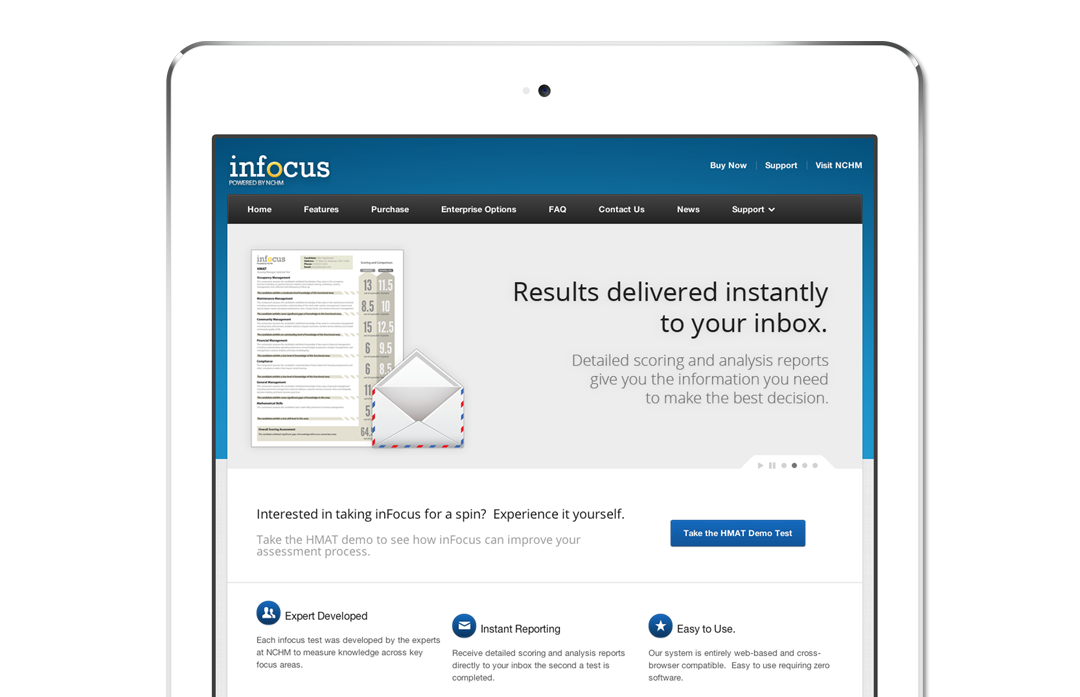 Full-Fledged Testing System
NCHM now has the ability to build tests that can out-perform the competition by expanding the types of questions that can be asked of applicants. The system Envy Creative has implemented makes it easy to write new aptitude tests and sell them to the NCHM user base
A New Testing Experience
Gone are the days of live, proctored testing platforms for the National Center for Housing Management. With the inFocus Testing system, users can purchase keycodes and let applicants take their pre-employment tests from the comfort of their own home
E-Commerce
Purchases are processed immediately and customers are sent their keycodes for instant use. No two-step verification or bothersome account pages – just the products you need when you need them
Instant Results
inFocus Testing offers users instantaneous results delivered directly to their inbox – an industry first. Immediately upon submission, the test is graded and feedback is generated based on the results to communicate the applicant's capabilities clearly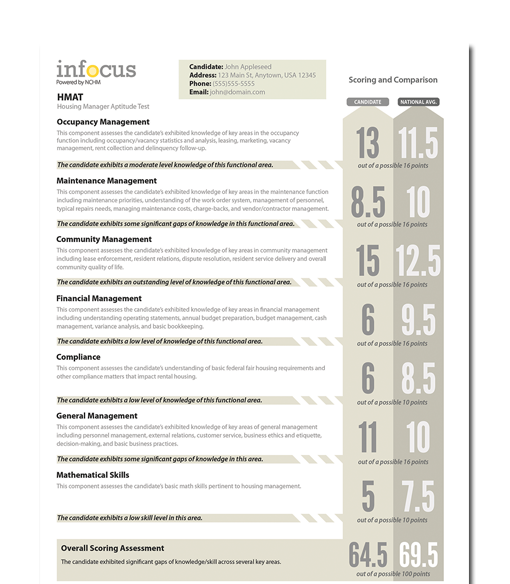 The Whole Package
The testing platform created for National Center for Housing Management is some of the most robust and complex development done by the team at Envy Creative. Design director Nick Votto was tasked with developing a rock-solid identity to slide in seamlessly with NCHM's other products. Not only was a platform for testing needed, but it needed to integrate with an e-commerce solution and email delivery systems. What NCHM has today is a totally new revenue stream utilizing technologies that no one in their industry has tapped yet. Best of all, it has provided customers with a tool that they didn't know they needed. It just took NCHM and Envy Creative working together to make it a reality.
Sophisticated, Powerful Apps
Do you have an idea for a great web application? We should talk.
We love building awesome new tools and applications for our clients. If you have an idea, we have the skills and know-how to make it a reality. Reach out to Envy Creative today and let's start thinking big.